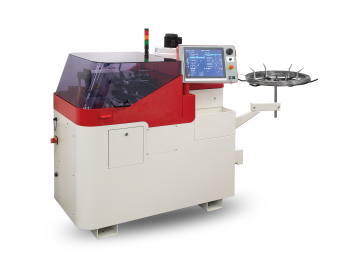 One of Micro Precision Components' core capabilities is high-volume production of high-precision parts. When those parts are low- to medium-complexity, we often utilize Escomatic machines instead of traditional CNC or Cam-driven machines to offer our customers the best intersection of quality and price.
The concept of an Escomatic arose about 80 years ago in Switzerland when a machinist wanted to be able to produce a watchmaking component without a cutoff burr. That's not possible with a traditional lathe where the material is spun at high RPM and the cutting tools remain stationary. But what if that were reversed? In Escomatic machines, the tools spin around the material, allowing for the material to be fed from long coil stock. That allows for the fastest possible machining time as there are fewer production stoppages.
Escomatic machines can still achieve high surface finishes, knurling and threading but does so at a much higher rate and better price than traditional lathes or CNC machines. Micro Precision Components typically enlists Escomatics for the production of shafts pins, and other simple or moderately-complex parts at high volume. We have found this useful in the automotive industry especially, but also for aerospace and even medical high-precision applications.
To learn more about our high precision machining services, contact us.