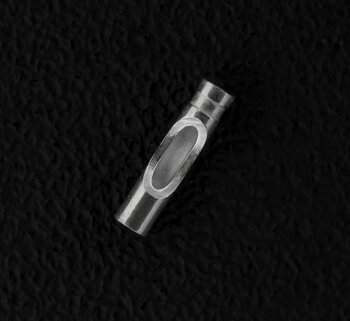 Micro Precision Components Inc. recently produced a micro component for a customer in the cardiac medicine field exhibiting some of MPC's key micro machining capabilities.
Micro Sized Medical Components
This micro medical part has an outside diameter of well under 0.05" and a length of less than 0.2" (a fairly standard size for MPC!) and is used as a splice connector between two electrical wires. As such, the part must have excellent solderability. Our facility in Switzerland which specializes in high-speed, high-volume production of tight-tolerance micro parts achieved this by plating the beryllium copper part with nickel and then electrodepositing tin over top, as tin plating helps produce a part with excellent solderability. Beryllium copper is used for this micro part primarily because of its excellent conductivity, but also because it is the strongest of all the copper alloys and because it is the best of those alloys for being machined into the smallest, most complex components.
Electroplating Process
Electrodeposition—and all forms of electroplating—is a type of plating process whereby the part is submerged in a liquid electrolyte solution and the material or alloy— in this case tin —is connecting to a positive anode while the part itself is connecting to a negative cathode. When an electrical current is applied to the electrolyte solution, the plating material adheres itself to the part.
As always, the material for this part is RoHS compliant. We delivered this part to the customer fully plated and packaged in under 8 weeks, but we are often able to expedite orders considerably. Our electroplating capabilities are just a fraction of our overall experience with high surface finish machining.
Contact us to find out how we can help you with micro medical components.